For the first time in 16 years, and only the second time in their history, Onchan Silver Band made the trip across the Irish Sea to take part in a National Contest. On their only previous trip, in 1994, the band travelled to Pontins in Southport to compete in the fourth section but were not placed in the rankings.
 It was a different story this time however!
 On Friday 22nd October the band travelled on the Isle of Man Steam Packet fast craft to Liverpool before making the short journey to Pontins, Prestatyn in North Wales. They were drawn to play second on the Saturday morning in the fourth section with the test piece being   Alan Fernie's 'A Caledonian Suite' which, in the words of the popular banding website 'fourbarsrest.com' proved to be an "engaging work challenging the bands and their MDs to not just get the basics right, but to also try and add a touch of Scottish flavour in the process." Despite their lack of experience in National contests, and having lost a couple of key players in the run up to the trip (through unavoidable circumstances), the band "brought the descriptive music to life thanks to a fine reading of the score by the MD, Paul Dunderdale and some confident ensemble playing". Before announcing the results, the adjudicators (the distinguished pairing of Roy Sparkes and Major Peter Parkes) praised the choice of test piece and stated that it was easy to sort the best from the strugglers with the tough part being to sort the middle portion. Onchan Silver Band ultimately found themselves placed 4th out of the 16 bands that competed - picking up a cup and a cheque for their efforts! There was even a surprise left for the youngest member of the band, Greg Halliday, who picked up a trophy for the youngest player in the 4th Section.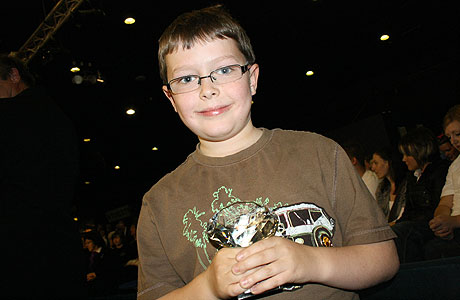 The band returned in great spirits and are looking to build on their success with further trips to compete very much in the offing. As always there are many people to thank for making the trip so successful, including the Isle of Man Steam Packet Company, 4Hire (for the use of two of their minibuses), the players (not least those who stepped in to help out when others were forced to drop out) and of course, the Secretary, MD and their team of helpers, drivers etc.
 Onchan Silver Band are now looking forward to a busy Christmas period while continuing to build on their achievements – They rehearse twice a week on a Monday and Friday night, and are always on the lookout for new members! If anyone is interested in getting involved with the band they can contact the Secretary on 492854 or they can be found on facebook.
Check out the article on 4barsrest -
http://www.4barsrest.com/articles/2010/1174g.asp